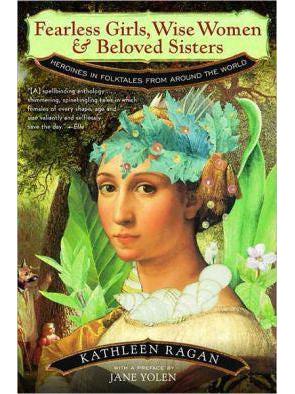 Fearless Girls, Wise Women & Beloved Sisters
One hundred great folk tales and fairy tales from all over the world about strong, smart, brave heroines.
A definitive sourcebook of folktales and fairytales and the first of its kind to feature a variety of multicultural heroines. Dismayed by the predominance of male protagonists in her daughters' books, Kathleen Ragan set out to collect the stories of our forgotten heroines: courageous mothers, clever young girls, and warrior women who save villages from monsters, rule wisely over kingdoms, and outwit judges, kings, and tigers. Gathered from around the world, from regions as diverse as sub-Saharan Africa and Western Europe, from North and South American Indian cultures and New World settlers, from Asia and the Middle East, these 100 folktales celebrate strong female heroines. In "The Mirror of Matsuyama," we see the power of a mother's love overcome even the silence imposed by death. In "Moremi and the Egunguns," a fearless girl faces messengers from the land of the dead. Fearless Girls, Wise Women, and Beloved Sisters is for all women who are searching to define who they are, to redefine the world and shape their collective sensibility. It is for men who want to know more about what it means to be a woman. It is for our daughters and our sons, so that they can learn to value all kinds of courage, courage in battle and the courage of love. It is for all of us to help build a more just vision of woman. Fearless Girls, Wise Women, and Beloved Sisters breaks new ground by reexamining our notions about heroism. This book will appeal to parents who want to foster positive role models for their children. An invaluable resource of multicultural heroines for any school library.
Author: Kathleen Ragan
---
---
More from this collection