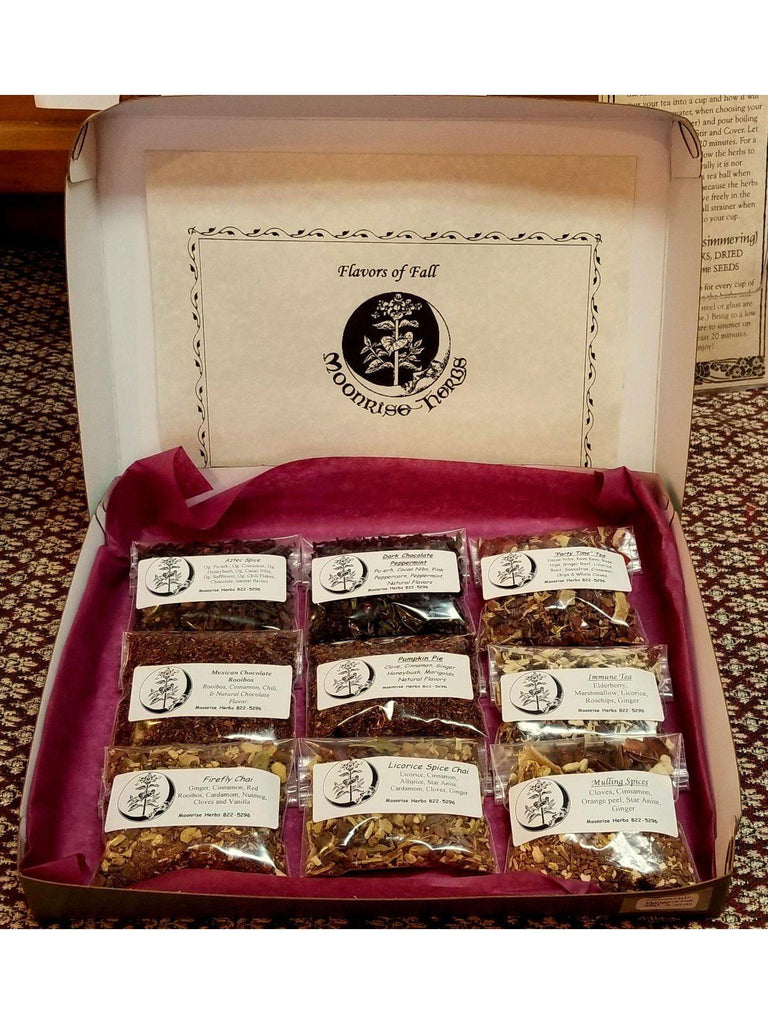 Flavors of Fall Tea Samper
A delightfully decadent selection of some of our most delicious teas!
Contains:
-Aztec Spice: Puerh tea, Cinnamon, Honeybush, Cocoa Nibs, Safflower, Chili Flakes, Chocolate Seeds*, Natural Flavors*

-Dark Chocolate Peppermint: Pu-erh tea, Cocoa Nibs, Pink Peppercorns, Peppermint and Natural Flavors
-Firefly Chai: organic Ginger root, organic Cinnamon bark, organic Red Rooibos Tea, organic Cardamom, organic Cloves, organic Nutmeg, and organic Vanilla bean.
-Immune Tea: Elderberry, Marshmallow, Licorice, Rosehips, Ginger
-Licorice Spice Chai: Licorice , Cinnamon, Allspice, Star Anise, Cardamom, Cloves and Ginger
-Mexican Chocolate Rooibos: Organic red rooibos, Cinnamon, Chili, and Natural Chocolate flavor.
-Mulling Spices: Clove buds, Cinnamon chips, Orange peel, Star Anise and Ginger root.
-Party Time Tea: Cacao Nibs, Kava Kava Root, Rose Hip Seed, Ginger Root, Licorice Root, Sassafras Root, Cinnamon Chips, & Whole Clove Buds
-Pumpkin Pie: Clove, Cinnamon, Ginger, Honeybush, Natural Flavors
---