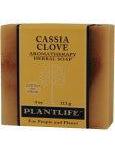 Plantlife Soaps Cassia Clove
A warming and comforting blend of cinnamon and cloves beautifully swirled and deliciously inviting. One of our top sellers! Not recommended for extra sensitive skin.
Everything Natural, Nothing Synthetic!
Plantlife Natural Body Care products are the perfect blend of Science and Nature, using "Old World" formulas combined with the timeless sciences of Herbology and Aromatherapy. What nature has provided can not be equaled or duplicated so don't settle for harsh chemical synthetics that are irritating to the skin.
---
---
More from this collection