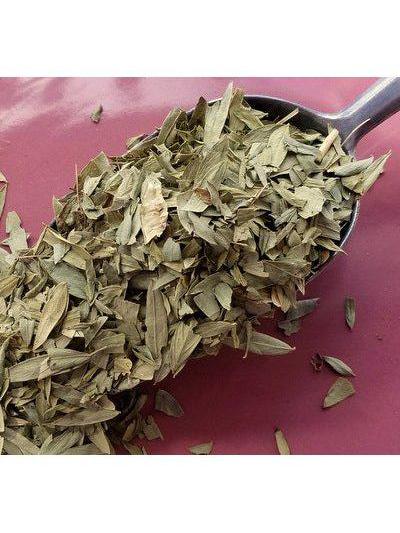 Senna Leaf, Organic 1oz
Senna alexandrina
Senna is a very stimulating laxative and should only be used for the short-term, temporary relief of constipation. (The author recommends first considering other options such as demulcent herbs, carminative herbs, cholagogue agents, and / or psyllium.) However, when a more heroic treatment is needed, an infusion of the senna leaves is effective. In doses such as 2-4 ounces of tea at a time, it produces normal evacuation of the bowels, but can cause griping if excessive doses are consumed. The author recommends combining senna with other carminative agents such as fennel or anise to prevent griping. Senna is sometimes used when constipation results after surgical operations, post-confinement, and in feeble, inactive bowel states.
Senna leaves are the active constituent in the Eclectic formula "Compound Licorice Powder." The recipe is as follows: combine two ounces each of senna and licorice powder, one ounce fennel powder, and five ounces of sugar (optional). The dose ranges from ¼ gram to 1 gram in water. An additional simple laxative remedy that works well is as follows: make a strong induction of senna leaves and strain. Stew prunes in the liquid until they are thoroughly cooked. Eat one prune 3-4 times throughout the day. Senna may take up to twelve hours to take effect. **Contraindications: avoid use during pregnancy and lactation, and in children. Senna should also be used with caution with some prescription medications.**
This information was written by Christa Sinadinos. It is not meant to diagnose or prescribe. Please consult with your health practitioner for serious health conditions, or before combining herbs with prescription or over-the-counter medications.
---
---
More from this collection