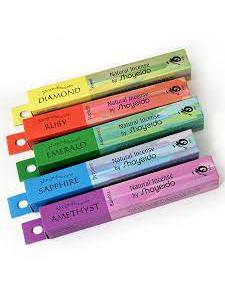 Shoyeido Incense Jewels Series
Each "gem" scent is beautifully-crafted to provide delicious fragrance without overwhelming the senses. Contains 40 sticks per box.
Diamond: "Power" - Sandalwood, frankincense, cinnamon and ginger lily create this beautifully light scent.

Ruby: "Strength" - Cinnamon and patchouli warm and ground a rosy sandalwood base.

Emerald: "Awareness" - An earthy, herby bouquet comprised of sandalwood, Fennel, Cinnamon, Clove & other spices.

Sapphire: "Devotion: - A soft & soothing blend of Sandalwood, Clove, Benzoin & spices.

Amethyst: "Balance" - One of our personal favorites!  A comforting blend of Sandalwood, Cinnamon, Spikenard and other spices.
---
---
More from this collection