• arcata • arcatafairyfest • arcatamainstreet • arcataplaza • fae • fairy • localevents • moonriseherbs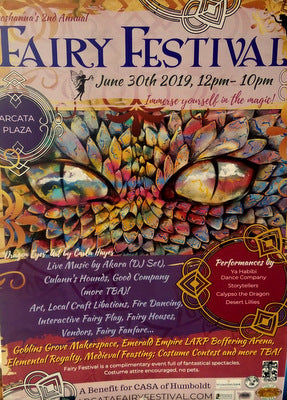 We are excited for this wonderfully special event taking place on the Plaza here in Arcata this Sunday!  It is a completely FREE event to attend, but there will be lots of fun and unique vendors of delicious food and whimsical and sundry items for all your fairy/fae needs!
---
• arcata • fairies • fairy • Fairy Herbs • herbblurbs • moonriseherbs
To mark the 1st Annual Fairy Festival happening this Saturday at our own Arcata Plaza, we would love to make #herbalwisdomwednesday all about the wee magical folk around the world and the plant & herbs associated with them.  When many of us think of Fairies, we imagine the tricky sprites, pixies and elf-like creatures from the Gaelic-Celtic-Northern European traditions and, naturally, many of the plants and trees native to those areas are associated with them. A couple of examples include: -Foxglove (Digitalis) have also been called Fairy Gloves and Fairyweed and the little spots inside the flowers are said to...